Unfortunately, there are practical limits on how many non-European players can be funded to travel to GCS2. This changes based on how much is raised in total, it will be finalised on the last day of qualifiers on 29th July. The first non-European players to qualify will be funded.
| Budget $ | Non-Euro players funded | Budgetary Limit |
| --- | --- | --- |
| 0 - 5,999 | 1st | Plane travel up to 12% of total budget |
| 6,000 - 9,999 | 1st and 2nd | Plane travel up to 12% of total budget (combined) |
| 10,000+ | All | Fully funded or as much as possible. |
Regions:
Non-Europe is everything outside of what is geographically considered Europe, Western Russia is counted within Europe for these purposes. Please see the below map for clarity: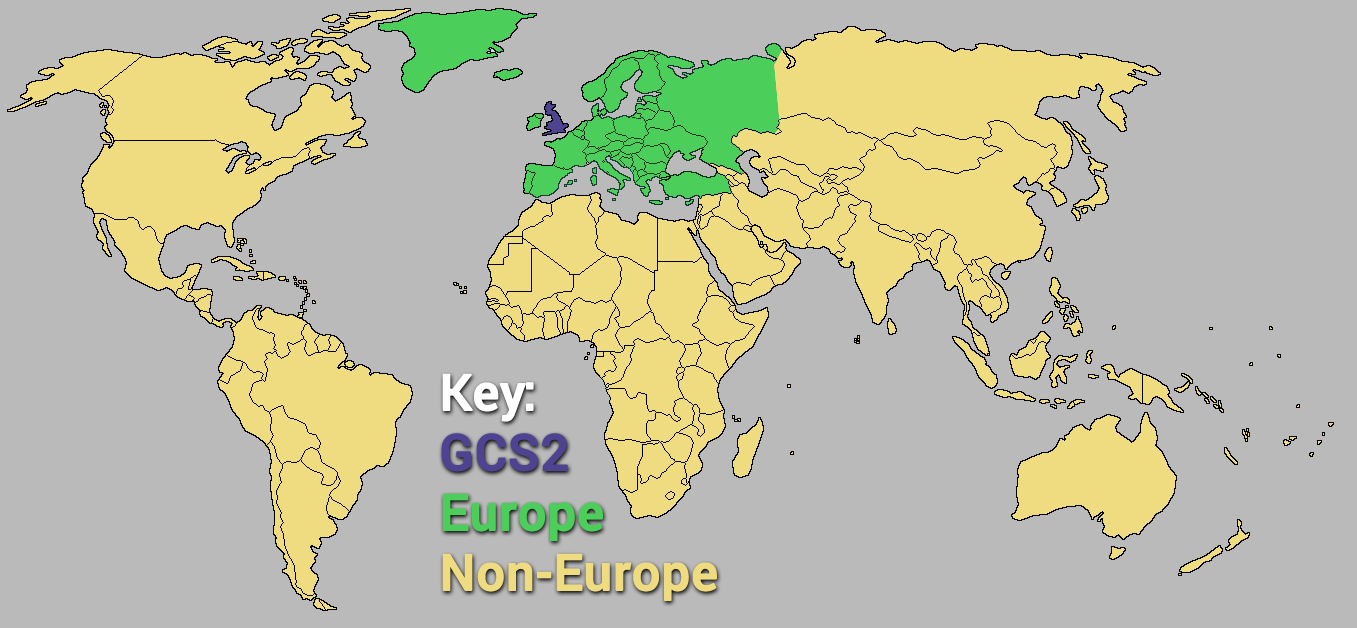 Notes:
Players winning qualification tournaments outright take precedence over qualification points.
If there is dead heat on points between two non-Euro players a Bo3 playoff will occur.
VISAs and other issues are primarily the player's responsibilities.
Self-funded Players
If any non-Euro players want to fund their own travel in advance of qualification tournaments (advance-booking etc.) and they fail at qualification they are guaranteed free entry to the event as a spectator provided they compete in at least two qualifier tournaments.
They will also have chances to play in show matches in front of a live audience. These players need to make their intentions known to the tournament organisers before qualifiers begin. If a self-funded player qualifies they will be reimbursed a portion of their travel costs.